Hair shedding is a normal cycle of physiology.  It is considered normal to shed 100-150 strands of hair per day. However, with aging, one is unable to replenish as fast as our loss.  This leads to gradual thinning of hair, receding hairlines,  or eventual baldness in men.
For women, onset can start as teens if one experiences hormonal imbalance due to the polycystic ovarian syndrome. Childbirth or anemia from heavy menses can further contribute to hair shedding. Hair shaft becomes thinner making it more difficult to maintain hairstyle. By the time she notices scalp is visible, over 50% of hair has been lost.
Instances that should raise a red flag if you experience them:
Hair fall more than 150 strands a day
Hairs shed or fall off at an increased rate
Hair thinning or baldness comes at an earlier age
Premature graying of hair
Strands of your hair are abnormally brittle
The appearance of bald patches
Slow down on the growth of hair length
Remember, excessive hair shedding can happen to people under certain circumstances. It shouldn't be a concern if it is temporary, meaning it stops once the trigger is gone.
A serious form of hair loss condition known as "alopecia areata" or spot baldness. It is due to an auto-immune disorder, where the body attacks the hair follicles. This may affect hairs in all areas of the body.
Baldness patches may occur in the scalp, which may no longer regrow. Alopecia treatment would depend on the type of this disease, age of affected of individual and severity of hair loss.
Currently, there is still no single treatment that can be applied and be proven effective for all that have this condition. For mild alopecia, common treatments are applying a topical cream/ointment like Minoxidil, Anthralin, and corticosteroids.
Reported to halt or reverse the progression of alopecia recently:
Another form of hair loss is called "Telogen effluvium", where the hair follicle prematurely enters the resting phase. Causes of this is hair to fall quicker than the normal phase, which could progress into chronic hair loss.
According to American Osteopathic College of Dermatology, the common causes of this hair ailment are – high fevers, childbirth, severe infections, severe chronic illness, severe psychological stress, major surgery or illnesses, over or underactive thyroid gland, crash diets with inadequate protein, and a variety of medications.
Most hair loss from medications is this type and causes include retinoids, beta blockers, calcium channel blockers, antidepressants, and NSAIDs (including ibuprofen).

There are other known factors that contribute to hair loss such as the following:
 Genetics
Male-pattern baldness or female-pattern baldness is a hereditary condition of hair loss.  It happens gradually as the individual ages. It can be addressed with prescription medication Propecia or with plant extracts that naturally block enzymes that convert testosterone to DHT, the main etiology of male pattern hair loss.
Hormonal Imbalance
Women are more susceptible to this. Pregnancy, childbirth, and menopause are some conditions that can affect hair health.
Stress
Stress can trigger abnormal cortisol levels from our adrenal glands and disrupt our endocrine system.  By doing so, it will cause an excess androgenic hormone that affects hair growth. For women, this is not an ideal situation as androgens can result in the eventual destruction of hair follicles.
So high-stress level can overstimulate the adrenal glands, leading to autoimmune issues or adrenal fatigue.  One often sees accelerated hair shedding or patchy hair loss. It is recommended to use adaptogens in natural ayurvedic herbs to support adrenal and minimize the abnormal rise in cortisol level.
Medication and Treatments
Also known as drug-induced hair loss. Some drugs can possibly interfere with hair health. Examples are medication for cancer, high blood pressure, anti-convulsants. anti-depressants, non-steroidal anti-inflammatory drugs, and in some cases antibiotics. Chemotherapy and radiation therapy and hormonal therapy are treatments that were said to cause hair thinning or hair loss.
Nutritional issues can also aggravate hair health. Zinc, iron, biotin and protein deficiency can most likely affect hair growth.  Not getting enough vitamin A, vitamin C, vitamin D, and vitamin E can also be the culprit of hair loss. In particular, vitamin D deficiency has been associated with alopecia.
Underlying Health Conditions
Irregularities in hair appearance and volume can signify health problems. Thyroid disorder (Hypothyroidism), anemia, Polycystic ovary syndrome (PCOS) are some of the ailments that can cause hair loss.
Environmental stress from overprocessing, exposure to chemicals and over the styling of our hair can damage hair significantly leading to hair loss. So by stripping away natural protective keratin layer, hair becomes dull, brittle and breaks easily.
Hair loss is more than just a physical problem. Those who suffer from this issue may also be subjected to emotional challenges like embarrassment, anxiety, discomfort, and loss of self-confidence. We all know that "Hair is a crowning glory" and hair loss definitely affect a person's appearance and quality of life.
Fortunately, there are novel hair growth treatments that are now widely available.  Such treatments included medication,  scalp treatments, laser hair therapy, surgical or non-surgical procedures, effective supplements, and topical regimens.
But of course, before using any of these, one must exercise precaution! Knowledge is the key.
So before we go into what products or treatments to do to make our hair grow faster, let's first go through a fact check about hair growth.
Facts about Hair Growth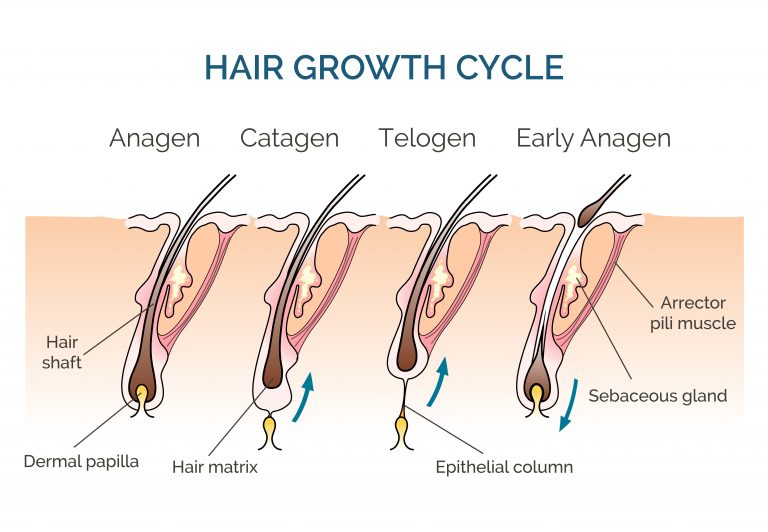 Here are few facts according to Mayo Clinic:
Normal hair grows is 1 cm per month or six inches per year
3 stages of hair growth: (1) Anagen phase is known as the growth phase; (2) Catagen phase, also known as the transitional phase; and (3) Telogen phase,  or resting phase (also known as shedding phase)
Our hair is composed mainly of a protein called Keratin, which forms the building block for healthy hair.
A hair follicle is a dynamic organ found in mammalian skin. It regulates hair growth via a complex interaction between hormones, neuropeptides, and immune cells
Humans have the longest growth phase of scalp hair compared to hair growth on other parts of the body.
But hair growth is not something that could happen overnight. One needs to be persistent in using effective regimen to see improvement after 2-3 months and optimal result at 6-12 months.
Some tips you can do to help your hair grow faster or minimize hair loss.
1.) Trim your hair regularly
Sounds odd right? Why cut your hair to make it grow? Well, the aim in doing this is to prevent split-ends, which is a sign of damage to the hair strand. If neglected, the split can progress and extend all throughout the strand then make its way to the hair shaft. At this point, the hair strand can no longer be repaired.
Trimming your hair of less than an inch every 10-12 weeks will help to get rid of the unhealthy hair tips. This will allow the hair to regrow healthier ends.
2.) Use a conditioner
Most often than not many of us use conditioner for its beauty effect. Well, actually there are many health benefits of using it like the following:
Conditioners act as a moisturizer making our hair soft and manageable. Aside from the easy styling benefit, we can enjoy, it also helps the hair strand to avoid from getting tangled that cause it to break.
It helps our hair cuticle in repairing the damage that can lead to hair breakage and also produces a protective coating to give further protection
Conditioners also hydrate the hair strands helping it restore oiliness. Dry hairs are easy to break
Aids the scalp in clogging pores to decrease hair loss
With ingredients to calm the irritated scalp and to stimulate hair growth
It is best to use a conditioner that suits your hair type to maximize the benefits of conditioning your hair. A revitalizing shampoo and conditioner is a good combination to achieve healthier hair growth.
3.) Give your hair a vacation
Some of our hairstyling and daily routines that if we do frequently can damage our hair. Thus, it would be good to change some of these old habits:
Heat styling – blow dry, or flat-iron or curling iron can damage the cuticle of the hair and its proteins.
Chemical treatments like coloring and perming – exposing your hair to chemicals can affect the keratin of the air which can weaken the hair strands.
Wrapping your hair with a towel can cause your hair strands to tangle with the towel's fibers. Your strands may end up breaking as you unwrap the towel from your hair. Use cotton fabrics instead of an old t-shirt.
Brushing your hair immediately after bath is not good for your hair because it is very fragile when wet. Wait a while and use a wide tooth comb.
Tying your hair with elastics can lead to what stylers' call as "chemical cut". This is when the hair breaks due to tension from the elastic tying. It is encouraged to use clamps, clips, pins or fabric ponytails.
Sleeping on an ordinary pillowcase. We spend hours resting our head in our pillows when we sleep, so it won't be a surprise if hair strands get caught up on your pillowcase. To avoid friction between your hair and the pillowcase, invest on silk or satin one that has a softer surface.
Always wearing a ponytail or bun. Constant tension on the hair may cause it to break over time. If it cannot be avoided, frequently change the location of your ponytail or bun.
4.) Have a balanced diet and eat nutritious food.
According to studies, Biotin and protein-rich foods can aid to accelerate hair growth.
Commonly known food that is good for the hair:
Eggs; nuts (e.g walnut, almonds);
Berries; fruits (e.g avocado);
Meat (lean chicken or pork);
Fish and other seafood (e.g salmon, shrimp, oysters);
Green leafy vegetables (e.g spinach);
Seeds (e.g chia, flax, pumpkin) and,
Sweet potatoes.
Vitamins and nutrients that are important for hair growth:
Vitamin A
B-Vitamin called Biotin
Vitamin C
Vitamin D
Vitamin E
Iron
Zinc
Protein.
5.) Explore hair-growth supplements.
Our body is unable to absorb the nutrients we need at times. And this may be due to factors like stress, trauma or not eating a balanced meal. Supplements can assist the body in getting an appropriate amount of nutrients. Novel hair supplements can block DHT and counter-inflammatory causes of hair loss. Also, it helps boosts anti-age your follicles to boost hair growth cycle.
However, you must talk to your doctor and rule out other medical causes of hair loss before deciding to take hair growth supplements.
6.) Apply oils. Coconut oil, olive oil, and castor oils are the most popular home remedies for hair.
Below are some significant benefits of oils.
It can stimulate hair growth since it can enter deeply and quickly into the hair follicles.
Has anti-bacterial properties that are good for the scalp
Moisturizes hair
Helps to reduce protein loss of hair
Makes hair shiny
For better results, put on oil on damp hair. Leave it for 5-10 mins. before shampooing and conditioning.
7.) Use quality hair serums.
These natural peptide and oil based product has many benefits for the hair including:
Making the hair shinier and softer.
On the hair care side, serums give the hair fibers added protection against harmful elements that can damage our hair. A protective coating is formed in the hair cuticle when this hair treatment is applied.
Hair serum also helps straighten out frizz that could help avoid the use of heating tools to rid out unwanted fly away or unruly hairs.
It is very helpful in treating damaged hair since serums also have strengthening features.
Depending on your hair type and hair care needs, there are different types of hair serums in the market.
8.) Keep your scalp healthy. Healthy scalp = healthy hair.
Our scalp cradles our hair from the time it is born until it grows, so give your scalp utmost care.
One basic treat you can do for your scalp is giving it a message. Just as body massage relaxes the muscles and improves blood circulation, doing the same to your scalp can also give the same effect. This can be done while applying oils, scalp serums or while shampooing or conditioning.
9.) Consider hair growth and hair loss treatments.
The science of hair care has grown and developed immensely, which lead to the introduction of a variety of products. Advance science has aided in producing more innovative hair products that can target as far as hair follicles.
However, you must be critical and wise in choosing what treatment you will take. It is advisable that you do research and read first before deciding.
10.) Consult a doctor.
If worrying about your hair health starts to set in, don't be hesitant to seek medical help.
We hope that reading this article has been helpful. As you continue your hair care journey, let MD Hair products be your partner in achieving healthy hair growth.
Above all, our quality hair products have become a trusted brand by the finest salons and retailers and even medical centers.