MD Laser and Cosmetics voted Best Medical Spa in San Mateo 2021
At MD Laser and Cosmetics, we focus on creating beauty and wellness through advanced science. We understand your need to look refreshed, natural and to feel good about yourself again.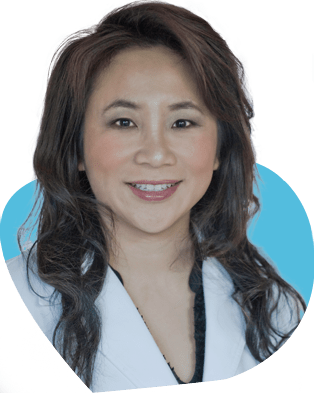 Susan Lin, M.D.
Specializing in Women's Health, Anti-aging and Aesthetic Medicine since 1991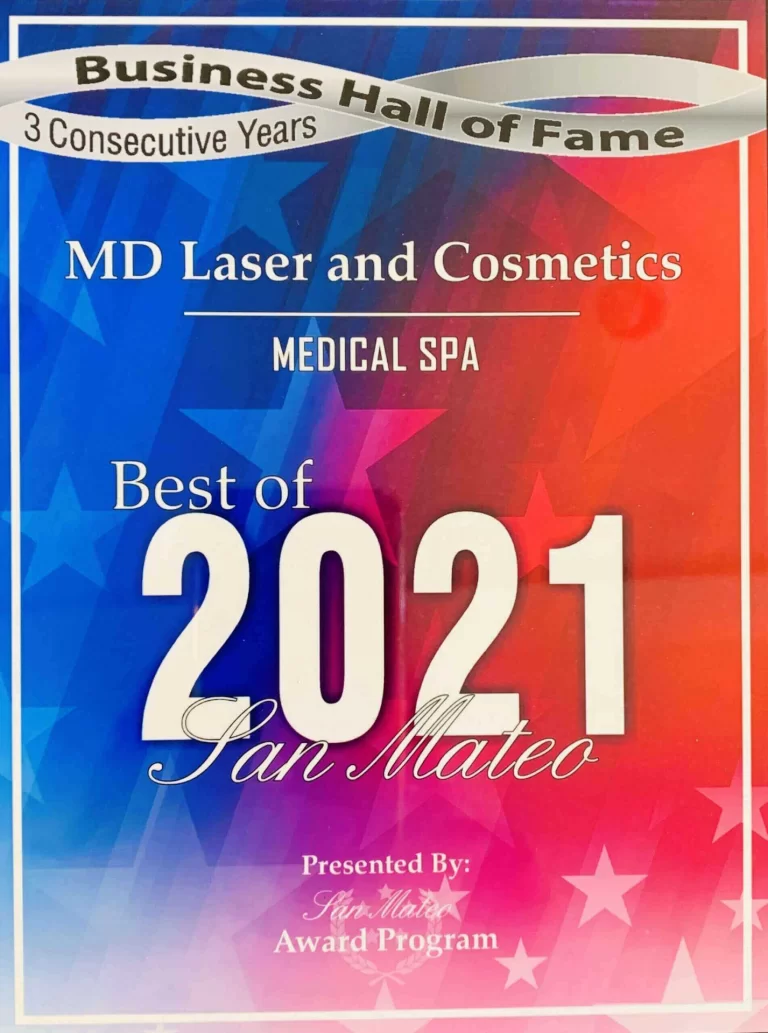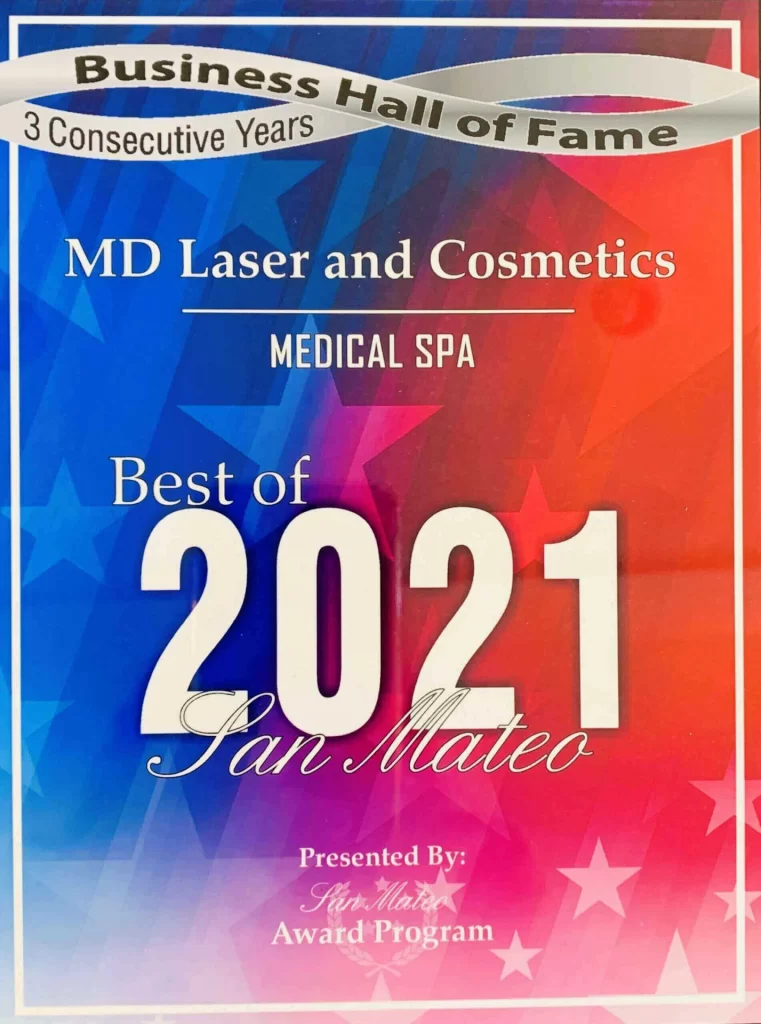 We Create Beauty
Through over 30 years of medical and medical aesthetic experience, we offer physician-supervised effective treatment and regimens to help you achieve your goal with minimum downtime and optimal result. Give us a call and let us know your needs. It's your turn!
Chose from our services:
Acne and Acne Scar treatments
Thinning Hair, Hair loss
HCG Weight Reduction/ Bioidentical Hormone
ThermiVa for Urinary Incontinence and Vaginal Rejuvenation
Facial Rejuvenation with Botox/Fillers/Microneedle/Thread Lift
Melasma and Skin Discoloration Correction
Chemical Peel/ Laser/Isolaz/ Fraxel/ IR Skin Tightening
Liquid Face Lift
Lip/Chin Augmentation
Kybella/ Mesotherapy Fat Reduction
Wellness Treatments for Sexual Wellness, Stress Reduction, Insomnia, Weight Loss, Anxiety.
Photofacial and Chemical Peel for face, body, and hands
PRP/Growth Factor Treatments
Cosmetic products and nutraceutical supplements
Hair Reduction
Our MD® Award-Winning Products
MD® is our award-winning solution-based beauty and wellness product line to solve your skin, hair, lash, and wellness problems. Developed by Dr. Susan Lin through clinical experience in aesthetics, anti-aging, and women's health since 1991, MD® products are sold in over 20 countries helping millions of men and women achieve their beauty and wellness goals. Utilizing the latest stem cell regenerative technology paired with high potency clinical strength, MD® products will work with your MD Laser and Cosmetics treatments to address your issue effectively and quickly.
Love Yourself
There's no greater investment than investing in yourself. Gaining the self-confidence required to succeed in any facet of your life is a necessity and nothing screams out confidence like looking and feeling your very best, no matter what age you may be.
Our Mission
Established in 2007, MD Laser and Cosmetics' mission has always been to help you look and feel your best without expensive surgery and downtime. We know how busy life can be and how important for you to look natural. Thus we focus on procedures and treatments with minimal downtime so you can get back to your normal life as soon as possible. So don't hesitate, schedule your appointment today and rediscover the real you!
Dr. Susan Lin received BA and MD degree through the Six-Year Accelerated Medical Program from Boston University with NIH Cancer Research Fellowship.  After receiving her medical degree, Dr. Lin completed residency training in Obstetrics and Gynecology at Kaiser Permanente Medical Center at Oakland.  Additional training in Gynecological Oncology with Galloway Fellowship in Gynecologic Oncology at Memorial Sloan Kettering Cancer Center and Felix Rutledge Oncology Fellowship at MD Anderson Cancer Center.  Dr. Lin serves as an Expert Reviewer for the Medical Board of California since 2004 and has been a member of the following organizations: 
American Society for Laser Medicine and Surgery

American Academy of Aesthetic Medicine

Assistant Clinical Professor OB/GYN UCSF School of Medicine

American College of Obstetrics and Gynecology

American Academy of Antiaging Medicine
Dr. Susan Lin has served as the board member of the Boys and Girls Club of the Peninsula, Strategic  Board for the McGovern Institute for Brain Research at the Massachusetts Institute of Technology, and Community Gate Path serving children and adults with disabilities.
Lastly, Dr. Lin has published numerous scientific publications including author the medical aesthetic field. In 2015, she authored two chapters in the widely popular and respected Harry's Cosmetic – 9th edition. This textbook extracts recent expertise from the dermatological industry and academia. It has also been certified for official use in cosmetic societies and universities around the globe.
Dr. Susan Lin is the founder of La Canada Ventures Inc., holding a patent for hair growth technology and MD brand.  MD® is a colletion personal care products focusing on beauty and wellness.  MD® is a solution based line sold in 20+ countries since 2006 helping millions of men and women look and feel their best.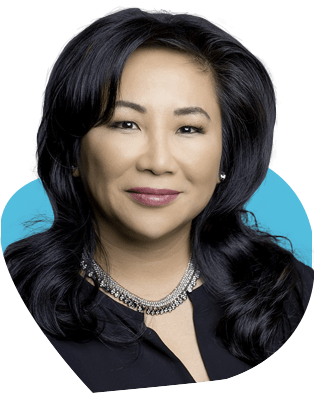 MD® we create beauty and wellness through advanced science
Dr. Susan Lin is the founder of MD Laser and Cosmetics, the premier medical spa in San Mateo, California.  We are committed to creating the best solutions in the areas of wellness and health since 1991. She created MD®, an exceptional collection of solution-based lash, skin, wellness, and hair products based on anti-aging technology. Sold in over 20+ countries around the world and used by millions of men and women to address their beauty and wellness issues.  Find them at  www.md-factor.com.
Stem Cell Regenerative Medicine
Dr. Susan Lin is dedicated to improving the lives of those suffering from degenerative and chronic diseases by participating in stem cell regenerative medicine via Cell Surgical Network.
La Canada Ventures Inc.
Founded by Dr. Susan Lin and holder of hair and lash growth patents and technology. MD® brand continues to help men and women look and feel their best.
What our clients say about us