It's lively. It's purifying. It's mental empowerment. It's energizing. It's spiritual. It's mystical. It's enlightening. It's physical. It's transforming.
It's yoga, a healthy lifestyle habit that approximately 15 million in the U.S. enjoy, according to The Yoga Journal. Originating in India centuries ago, there are many braches of yoga today. According to the American Council on Exercise, Hatha yoga is the most popular form in the U.S. which focuses on concentration, soothing stretching, and strengthening. As American Council on Exercise added, researchers discovered that women, who practiced hatha yoga 3 days per week, demonstrated a significant improvement in flexibility, muscular strength, endurance and balance. There's also many other benefits that have been reported about yoga, particularly considering the many types.
For example, Pranayama yoga involves breath fitness and breath control to build on energy and vitality. Mantra yoga focuses on controlling your mind through the chant of repetitive words. Ashtanga yoga, also known as power yoga, is an intense work out that builds strength and flexibility. Now, let's take a step back, before you decide on the best yoga form, you'll want to consider your goals. Then, you can contact a few facilities to find out if their practitioner offers the type of yoga that can help fulfill your goals, including:
Exercise with yoga may offer aerobic, muscular and flexibility training for goals of a light and strong body with cardiovascular and muscular strength. Both weight loss and weight maintenance goals can be achieved with certain types of yoga.

Brain Energy is stimulated with yoga, so you can be more focused, experience short term memory improvement, and improve unhealthy behaviors triggered by your brain.

Relaxation can be accomplished with yoga that focuses on controlled breathing for stress relief and a calm mind.

Purification of the mind and body can be achieved with yoga because it is detoxifying, while being sweat-producing for the prevention of illness.

Injury Prevention is another benefit of yoga, while helping you to limber up with improved flexibility and coordination.

Stamina can be achieved through yoga that focuses on challenging your body's abilities.

Open Energy Channels with yoga postures, visualizations, and meditation that awaken your mind and body energy, create inner awareness, as well as release emotional and spiritual blockages.

Body Alignment and Posture can be enhanced with yoga that provides an improved postural alignment throughout your entire musculoskeletal system.

Rhythmic yoga, such as offered by Sanskrit chanting, corrects breath, resonance, rhythm and tongue position. Unique vibrations can be experienced with each style while chanting verses from the Rig Veda, Yoga Sutras, Shankaracharya and the Bhagavad Gita.

Therapeutic practices can found in yoga that is designed for restoration, healing, and transformation.

Scriptural Study involves the united force of the breath, mind, body, emotions and spirit to bring out a route for truth and wisdom. This technique is designed to leverage intellectual decision making skills and provide depth of knowledge about inner spiritual experiences.

Self Inquiry and Self Realization focuses on the spirit of your mind by unconsciously tapping in to your inner comparisons and contrasts of information from past thoughts and experiences for clear thinking.

Health is a focus in all yoga styles and each type of yoga provides advantages for specific medical conditions. For example, the British Medical Journal reported that following three months of Sava Sana, yoga participants in a study experienced an average of a 26-point drop in systolic blood pressure (the top number) and a 15-point drop in diastolic blood pressure (the bottom number). Yoga has also been known to assist with poor circulation, diabetes, mental health, gastrointestinal conditions, autoimmune diseases, fibromyalgia, carpal tunnel syndrome, the prevention of osteoporosis and degenerative arthritis, as well as, enhanced quality of life for people with HIV and cancer.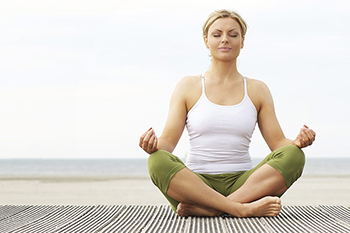 The Style
Now that you've captured a glimpse of the types of goal you can achieve with the different branches of yoga, it's time to think about the type of style that you'd like to participate in to achieve your goals. A variety of postures, synchronized breathing and meditation with poise are common ingredients in all styles of yoga. Yet, there are a variety of techniques, including, but not limited to:
Visualization, such as, imagining drawing energy up your spine, may be part of the yoga formula you select.

Flowing, dancelike, movements offer a gentle type of yoga. Chanting and rhythm is another type of focus.

Intense physical activity, including head stands, toe touches and side bends, may be the way to go.

Yoga using equipment, such as cushions, blankets, straps and blocks, offers a slower pace and detailed attention for those who are less agile, injured or ill.
Selecting a Yoga Instructor
There are thousands of trained, certified and experienced yoga instructors. There are equally as many yoga studios and a plethora of yoga styles. This abundance of options can make choosing a yoga instructor feel daunting and somewhat impossible. Still, there are ways to search for and find a yoga instructor who is just right for you.
Make inquiries with friends, health clubs and yoga centers. You can go online to learn more about the yoga teacher in your area by typing "yoga your city state" into your Internet browser. In this inquiry, screen the credentials of different yoga instructors by checking to see if they are certified or registered. Then, identify the number of hours of training that they have completed and years of experience in the field. Also, identify the type of training that the yoga instructor has completed. In some cases, yoga instructors receive advanced training, such as in holistic therapies, personal training, or Pilates. Finally, explore the detailed information they provide about the style of yoga they teach.

Select a few different teachers and contact them to see if you can receive a free yoga class. Then, attend a few different types of classes with different instructors. Return to each class a few times so you can get a feeling for the instructors' different approaches.

Wait to purchase a yoga mat until you identify the type of yoga you would like to participate in. Then, ask your instructor what type of mat they recommend for you to purchase.
Yoga can open the door to a great number of possibilities for enhancement. Just an hour of your time, three times a week can make a difference. The ultimate joy of a calm spirit and healthier lifestyle can positively embrace many aspects of your life through yoga.