Stretch Marks
Treatment of stretch marks in San Mateo CA
Revolutionary treatment of stretchmarks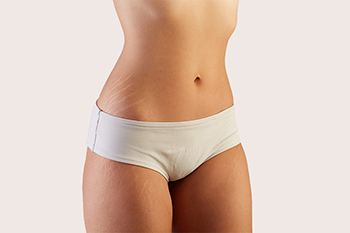 What are stretch marks?
Stretch mark are cracks in deep skin layers called dermis. This is due to weakness caused from decreased elasticity and collagen. When skin is stretched, the thin dermis can break causing the typical lines we see in stretch mark. Stretch marks are usually multiple, symmetric, well-defined linear lesions initially appearing as elevated red-to-purple color lines (striae rubra) and over time, the color gradually fades into white and skin becoming very thin (atropthic) with fine wrinkled appearance (striae alba).
Why does one get them Stretch marks?
Stretch marks are very common and usually develop anywhere from age 5 all the way up to 50. Typically found in areas where there is significant expansion such as belly during pregnancy, breast and arm from periods of rapid growth. Certain medical conditions such as Cushing Disease also leads to excess cortisol level and red stretch marks on belly.
Stretchmark affected both men and women by this condition. It may result in a great deal of discomfort, embarrassment and isolation. Puberty is responsible for about 25% change of developing stretch marks, while pregnancy carries a whopping 75% chance. Striae appear during the time of rapid increase in size, which most commonly happens in puberty and pregnancy.
For Women, the embarrassing sites are:
Breasts
Abdomen
Hips
Thighs
Buttock
Men usually get them on:
Shoulders
Lower back
Thighs
Other less common areas are underarm (axilla), upper arm and neck area.
What are available treatments for stretch marks?
Dr. Lin is proud to offer "gold standard" treatment to get rid of the stretch marks available on the market with Dermapen Microneedle with PRP/Growth Factor treatment. In the past, stretchmark were treated with expensive Fraxel laser. Newer advancement uses unique technology to stimulate collagen and elastin production, resulting in tighter skin without thermal damage. It is very safe and very effective. Presently there are a variety of treatments which promised to only improve the appearance of the stretch marks like topical therapy with pure tretinoin creams. Later, more advanced technologies with collagen stimulation devices such as microneedling and even fractional laser skin resurfacing technologies were also introduced. Now with added regenerative powers of growth factor peptides, one can deliver the peptides via mesotherapy to the deeper layers of dermis where stretch marks reside.
How can we help?
Dr. Lin offers the latest and the best treatment modalities for the treatment of stretch marks. It is important to understand that sometimes one treatment might not be able to fully correct the issue, but a combination of treatments will be more effective. We invite you to come in for a consultation to find out which treatment will be right for you. Our office offers a variety of treatment from natural PRP therapy to fractional laser and excited to introduce growth factor technology our latest addition to the family.