Art of Vaginal Rejuvenation, Reclaim Your Pre-baby Body, Restore Your Relationship, Revive Your Well Being, No Surgery, No Pain, No Downtime.
What is ThermiVa®?
ThermiVa treatments deliver controlled thermal energy to the desired areas – external (labia) and/or internal (vagina) – using the same technology that has been used for years to reduce the effects of aging. The complete ThermiVa procedure includes
3 separate treatments over a period of 3 months.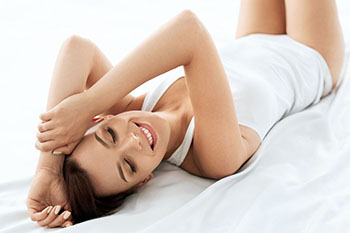 How it Works
ThermiVa treatments use temperature controlled radio frequency energy to gently heat tissue so that women can reclaim, restore and revive femine wellness without discomfort or downtime. Physicians using ThermiVa are pleased to have an in office procedure, and patients reporting excitement about a new treatment option for women who want results without surgery.
What Patients Have to Say…
" Such a comfortable and pleasing treatment with absolutely no complications. Immediately I felt my labia and vulva to be tighter, a lot less saggy, and a definite "WOW!" in the way it looked. So much more moisture and less irritation in my jeans and softer and smoother skin. Funny how a simple treatment can give so much confidence.
After the first treatment I definitely felt tighter inside my vagina, was able to have more muscle control, and did not leak urine anymore! My muscle control was not good. That all went away immediately after the Thermi Va treatment It was really amazing to do that again after so many years of no control.
I am so relieved that now I have something I know can help me with my personal and intimate needs. This is definitely a life changer"
" My labia had changed and no matter how many Kegels I did, Sex was ok, but I had lost some confidence in myself and ability to please my partner. "
After ThermiVa: " I didn't really know what to think about "the procedure performed", but there was no down side to it. There was no pain during or after, no burning, no mess. After the first treatment in a series of three, I was surprised that my labia seemed closer to my body and there also was some vaginal tightening.
It was after the second treatment that I noticed a significant difference. My labia were fuller and softer and my vagina was noticeably tighter. Sex became better for both of us and sex was more pleasurable for both of us.
I did not think things could get tighter or sex better, until after the third treatment.
I feel better about myself, more youthful and sexier. My partner is a happy man and our sex life, which was good, is now better than ever. "